I arrived early for an appointment in DuPont, Washington and searched around for something to do on the mapping app of my phone. I made a quick visit to Clock Tower Park, and then found a short trail down to Puget Sound that sounded manageable in the time allowed.

Background of DuPont, Washington
DuPont is nestled between Fort Lewis (or JBLM) and the Nisqually Delta. Home to the Sequalitchew Tribe for centuries, who worked along peaceably with the Hudson Bay Company. An explosives factory and company town of 100 houses was built between 1906 and 1909 by the DuPont Company. Weyerhaueser later bought the site and the village still numbered only 600 inhabitants by the 1980s. Weyerhaueser then developed the site in the 1990s as the Northwest Landing Master Planned Community, and the population ballooned to 9,000. Intel, Farmers Insurance, Fedex, and Amazon were new employers attracted to the business park. Today, most residents work for the military at the Joint Base Lewis McChord (JBLM), one of the largest military bases on the West Coast.
Clock Tower Park
This park sits amidst the master planned community. Several homes line a half circle around the park that must be a very desirable place to live. People were out walking their dogs this morning. A large gazebo evidently hosts summer band concerts.
Sequalitchew Creek Trail
Next, I headed for the pretty Sequalitchew Creek Trail. I had an hour and a half available, which was just enough time to traverse the 3 mile round trip and take in the view of Puget Sound from the beach. The remains of a DuPont Company pier and rail system are visible at the beach. It's a popular trail, as I passed many people on my walk, and a senior group was gathering to tackle the trail as I left. The whole route slopes gently down to the beach. There are no steep sections at all. About a third of the trail is paved and the rest a well-maintained gravel. You hear the burbling of the creek the whole way along with chirping of many birds. The beach was absolutely calm - no waves and no sounds. In the distance you can see the Olympia Mountain range.
All Homes for Sale in DuPont, WA
Click here for all the results
About Realtors Bob and Elizabeth (Wang Jen-Yee) Kelly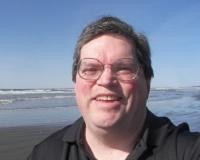 Bob is an eXpert buyer's agent with a special interest in travel and vacation homes. Bob and his wife Elizabeth (Wang Jen-Yee) are decades-long residents of Greater Seattle and the surrounding Puget ....